School Council
The aim of the School Council is to promote fundamental British values including democracy, mutual respect, rule of law and tolerance.
At the beginning of each school year a child from each class across the school is elected by their peers to join the School Council. The team members then meet fortnightly with Miss Hopkins, Assistant Head Teacher, to discuss and address any issues raised by the children and these are then shared with the rest of their class, sometimes through assemblies. Past and current issues and ideas include improving games at lunch time, raising money for school trips and setting up a system to visit the library during play times.
We will soon be visiting The Houses of Parliament to improve our knowledge about how our Government system works!
Eco Warriors
Our Eco Warriors comprises of approximately 13 children who meet each week during Friday morning assembly in the Discovery Zone.
They discuss issues concerning the school environment and plan specific campaigns regarding saving energy, reducing litter, walking, cycling/scooting to school and ways to protect the local wildlife. The Eco warriors also get involved in local and national campaigns around these important issues.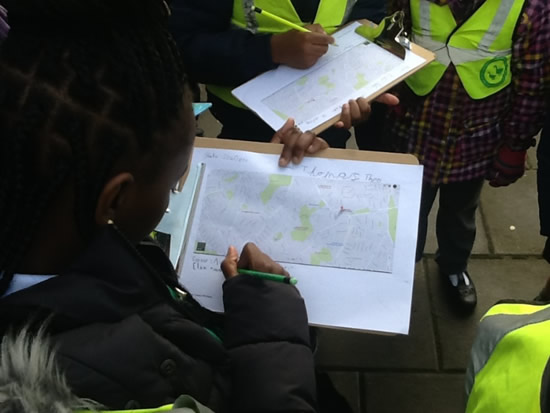 Children in each class from Year 2 to Year 6 who are interested in becoming Eco Warriors give a short presentation to their class about why they would like to join the team and then each class votes for one child to represent them throughout the year. Year 1 children also choose a child to represent their class, but without the presentation!
In October 2017 we were awarded the Silver Accreditation from Transport for London in recognition of our commitment to safer, more active travel initiatives.
Our Eco Warriors are currently working with the London Borough of Southwark to create a Goose Green Walk Zone Map! Go Eco Warriors!
This term...
This term, the Eco warriors have been investigating the problems caused by plastics in our oceans. As part of our investigations, we will be organising a trip to The London Aquarium to learn about some of the amazing creatures who live in our oceans and need to be protected from plastics.
To raise money for our trip, we will be holding a 'Beat the Keeper' game during lunchtime, on the football pitch next Thursday 11th October. Cost is 50p for three shots! Come and have a go!!
On Friday October 12th, we will be having a special whole school assembly led by Ric Baldock from The Reduce Plastic East Dulwich Campaign.